History of the Stewarts
| Castles and Buildings
If you are a Stewart Society Member please login above to view all of the items in this section. If you want general information on how to research your ancestors and some helpful links - please look in background information.
If you have a specific question you can contact our archivist.
Inchmahome Priory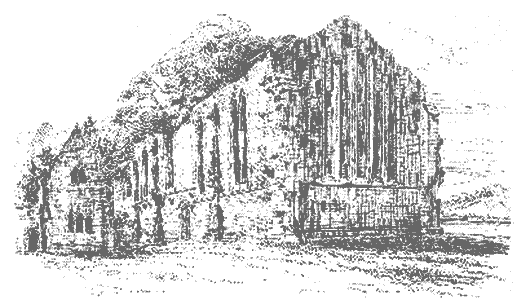 Inchmahome Priory Childhood haven of Mary Queen of Scots
Lake of Menteith
It was to this lovely island that Mary, Queen of Scots was brought as a 4 year old to protect her from the threat of invasion by the English.
The Augustinian Priory of Inchamhome, on the island of the same name in the Lake of Menteith, was founded in 1238 by Walter Comyn, 4th Earl of Menteith.It is believed that there was a much older establishment on the island, dating back to Celtic times and dedicated to St. Macolmoc, after whom the island was later named. The island is little more than a furlong in length and about a furlong wide at its widest and is a very beautiful spot, especially in Summer when the ancient chestnut trees are in full leaf and "Queen Mary´s Bower", supposedly planted by her, is looking at its loveliest.
In the ruined church is the famous effigy (c.1294) of Walter Stewart, Earl of Menteith, and his wife with her arm around his neck. It is the finest surviving 13th-century effigy in Scotland. Other Menteiths are buried in the Choir. The Mausoleum, built in what was once part of the cloisters in 1644, contains the tomb of the unfortunate Lord Kilpont, murdered in Montrose´s camp by James Stewart of Ardvorlich in that year. The story was used by Sir Walter Scott in his novel, A Legend of Montrose. Kilpont´s son, the Earl of Airth and Menteith, sold Inchmahome to the Marquess of Montrose.
There are several royal connections with Inchmahome. It was visited by Robert I, the Bruce, in 1306, 1308 and 1310. His son, David II married Margaret Logie here in 1363. Perhaps most famously, it was briefly a safe haven for the four-year-old Mary, Queen of Scots, for some weeks after the Battle of Pinkie in 1547, from whence she was taken to Dumbarton to take ship for France. After the Erskines had possessed the island in the 16th century, it passed to that of the Dukes of Montrose in the 17th, and remained in their possession until it was given to the Stewart Society.
In 1926 the whole island was bought by John A. Stewart, afterwards styled "of Inchmahome", who gave it to the Stewart Society in perpetuity. This wonderful priory and island still belong to the Stewart Society and the property is administered on our behalf by Historic Scotland. It is a short ferry ride (7 minutes) from the pier at Port of Menteith.
www.historic-scotland.gov.uk