History of the Stewarts
| Castles and Buildings
If you are a Stewart Society Member please login above to view all of the items in this section. If you want general information on how to research your ancestors and some helpful links - please look in background information.
If you have a specific question you can contact our archivist.
Methven Castle
Methven, Perthshire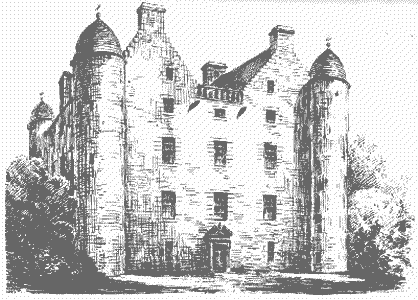 Methven Castle Methven Perthshire
There was an older castle on the site where the present Methven Castle now stands,dating back at least as far as the fourteenth century and modified in its glory days in the fifteenth and sixteenth centuries. The visible parts of the present building, however, are no older than that of the reign of Charles I. It is a large and uncompromising square structure with characteristic early seventeenth-century towers at the corners.
The castle was given by Robert I, the Bruce, to Walter, 6th High Steward of Scotland. In the middle of the sixteenth century it was for many years the home of Margaret Tudor, widow of James IV. After Queen Margaret´s death, Henry Stuart 1st Lord Methven (b. 1495, d. 1552), married a second time to Janet Stewart, daughter of John Stewart 2nd Earl of Atholl. Their eldest son was Henry Stuart, 2nd Lord Methven (birth unknown, d. 1572) who was killed by a canon ball while under siege at Broughton near Edinburgh. He left a son Henry, 3rd Lord Methven, who died without issue in 1584 and Methven reverted to the Crown again.
Later that year James VI bestowed Methven Castle upon a distant cousin, Ludowick Stewart, 2nd Duke of Lennox who owned the castle from 1584 until 1664 when it was purchased by Patrick Smythe of Braco. The Smythe family retained ownership until 1921. It is now owned by the Murdoch family.
The Methven Cup, a remarkable silver bowl and foot attached to each other by a rock crystal stem, belonged to Margaret Tudor and was used at Methven on special occasions. This most unusual sixteenth-century object is now in the Los Angeles County Museum, California, USA. Dating from about 1530, its silver mark (it has only one) has never been fully explained but it is probably that of the Edinburgh goldsmith, John Vaitch.
The castle now hosts weddings and weekend visits. www.methvencastle.com