History of the Stewarts
| Castles and Buildings
If you are a Stewart Society Member please login above to view all of the items in this section. If you want general information on how to research your ancestors and some helpful links - please look in background information.
If you have a specific question you can contact our archivist.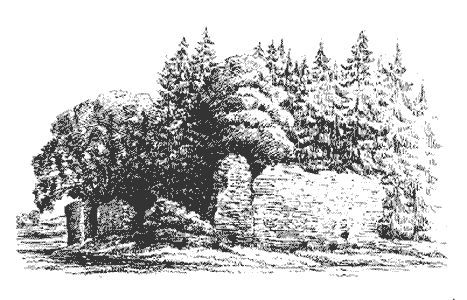 Moulin Castle - Black Castle Of Moulin; An Sean Chaisteal; Caisteal Dubh Mhaothlinne
An important stronghold in medieval times Moulin Castle now lies in ruins. It was originally built in 1326 by Sir John Campbell of Lochow, a nephew of King Robert the Bruce who would later be made Earl of Atholl in 1320 by King David II.

The castle was destroyed in 1500 during the great plague that devastated much of the highlands and proved to be particularly deadly in the parish of Moulin. After the plague broke out in the castle, killing the entire garrison, no one would enter it. The measure was then taken to batter the castle down with cannon and make a funeral cairn for those dead in the castle, turning the castle into the ruin it is today and leaving only the lower courses of one of its corner towers and part of an enclosing wall.