History of the Stewarts
| Castles and Buildings
If you are a Stewart Society Member please login above to view all of the items in this section. If you want general information on how to research your ancestors and some helpful links - please look in background information.
If you have a specific question you can contact our archivist.
Murthly Castle
Murthly, Perthshire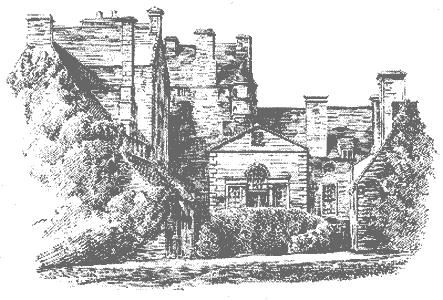 Murthly Castle Once a Royal hunting lodge
Murthly Castle is located two miles to the west of the village of Murthly in Perth and Kinross. Originally it was a royal hunting lodge during the reign of David I. Later it belonged to the Abercrombies and then it came into the possession of Sir William Stewart, known in the family as "Sir William the Ruthless". The oldest parts of the castle date from just before 1400 and there have been around a dozen distinct building phases since that time.
During the 1830s the building of an ambitious 19th century replacement castle by James Gillespie Graham was undertaken, but it was never finished and later demolished. However, within the castle grounds is the Chapel of St Anthony the Eremite, a Catholic chapel designed by James Gillespie Graham and A W N Pugin in 1846, attached to an earlier 16th-century chapel.
The grounds are laid out with many avenues and carriage drives and contain some of the most spectacular trees in Britain, especially American species brought back to the castle by the later Sir William, the 7th Baronet.
The castle is private but tours can be arranged for parties:www.murthly-estate.com