History of the Stewarts
| Castles and Buildings
If you are a Stewart Society Member please login above to view all of the items in this section. If you want general information on how to research your ancestors and some helpful links - please look in background information.
If you have a specific question you can contact our archivist.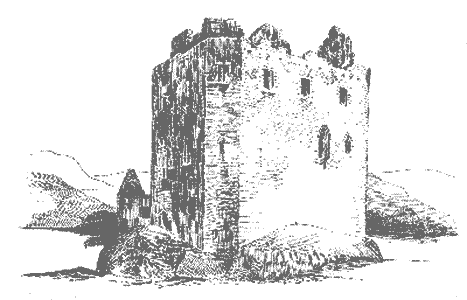 Careston Castle also known as Caraldston Castle - Angus
The names is said to derive from Keraldus, dempster to the Earls of Angus at the start of the 13th century.Nothing remains of an earlier castle. The castle was built about 1582 by Sir Henry Lindsay, who became Earl of Crawford in 1620. It was later owned by Sir John Stewart of Grantully, then by the Skenes, a farmer, and by John Adamson, a whaling ship owner from Dundee.
Sir Henry Lindsay, 13th Earl of Crawford, built 'the new place of Carraldstone', a tall L-plan house, by 1592, and his nephew, 2nd Lord Spynie altered the interior in the mid 1620s.  Further changes were made by Sir Alexander Carnegy in the 1630s and the house was recast c.1700.
 The enormous coat of arms above the front door was added by John Stewart in 1714.  About 1790 a grand staircase hall was added at the rear and the 16th century corner-turrets were embellished with crenellations in the Gothick style.  Further additions at the back and a loggia across the front of the main block were made for John Adamson after 1880.  Inside, the room spaces have been reorganised and reshaped in successive remodellings, but the house preserves a remarkable series of chimneypieces – perhaps made for Lord Spynie and Alexander Carnegy – which are derived from engravings in du Cerceau's Livre d'architecture of 1561.  The drawing room and dining room have high quality panelling of c.1700 with a broad cornice and the two finest chimneypieces, but there is another in the west room of the second floor of the main block and a fourth in a corridor on the second floor.