History of the Stewarts
| Castles and Buildings
If you are a Stewart Society Member please login above to view all of the items in this section. If you want general information on how to research your ancestors and some helpful links - please look in background information.
If you have a specific question you can contact our archivist.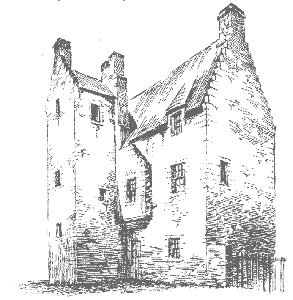 St Andrews - Queen Mary's House
This 16C house has rubblestone walls and a roof covered in Flemish tiles. It is named in honour of Queen Mary, who stayed here in the 1560s.. The current building, restored in the 1920s,houses a library for the school St Leonards. Queen Mary's House was bought by St Leonards in 1926 and officially opened as Queen Mary's Library by her Royal Highness the Duchess of York in 1927.
Mary Queen of Scots is said to have visited St Andrews three times between 1560 and 1565. The English ambassador to the court of Elizabeth I, Randolph, wrote that he had been invited to 'sup' with the Queen in a merchant's house in St Andrews and to watch her 'shoot at the butts' (archery) with the Duke of Moray in a private garden. This house is the only house at that time to fit the description given.
The room which the famous monarch stayed in remains on display.