History of the Stewarts
| Historical Objects
If you are a Stewart Society Member please login above to view all of the items in this section. If you want general information on how to research your ancestors and some helpful links - please look in background information.
If you have a specific question you can contact our archivist.
Prince Charles Edward Stuart's Travelling Canteen
A Picnic Set fit for a Prince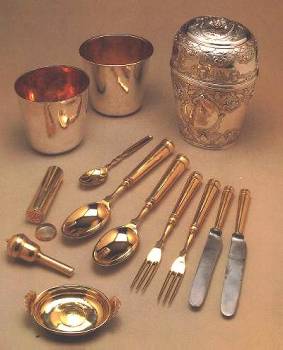 Prince Charles Edwards Canteen Picnic Setbr fit for a Prince
The secret Jacobite and Edinburgh goldsmith, Ebenezer Oliphant, made this ingenious piece of equipment in 1740-41, probably for one of his well-connected customers to give to Prince Charles Edward Stuart as a 21st Birthday Present. It would have been a very suitable gift for a prince who loved riding and hunting and being out and about, as Charles did in those days. Oliphant was the youngest uncle to Laurence Oliphant of Gask, aid-de-camp to the Prince in the ´45.
The canteen comprises 2 beakers, 2 knives, 2 forks, 2 spoons, a teaspoon-cum-marrow scoop, a nutmeg-grater-cum-corkscrew, a salt box and a dram dish, all neatly fitted into an outer case. The case has a hinged lid and is richly chased with bands of linked thistles, flowers and foliage. It is a fine and rare example of all-over Rococo work not often found in Scotland; indeed Oliphant, who had learned the skill from James Mitchellson, his master and an exceptionally gifted goldsmith, was probably the only goldsmith in Scotland capable of doing such work at that date. The front of the body is engraved with the Prince of Wales´s Feathers. By 1753 Ebenezer had prospered so well that he was able to help his nephew´s family buy back the family estates which had been forfeited after the ´45.
In the rout which ended the battle of Culloden in 1746, the canteen was captured by the Government troops and fell into the hands of the Duke of Cumberland. Later that day he presented it to his aide-de-camp, George Keppel, Lord Bury, later Earl of Albermarle, in who´s family it descended until it was sold in 1963. In 1984 it came up for sale again and, with the intervention of the Reviewing Committee on the Export of Works of Art and a generous grant from the National Heritage Memorial Fund and a whisky company, it was bought for the National Museums of Scotland.