History of the Stewarts
| Tartans
If you are a Stewart Society Member please login above to view all of the items in this section. If you want general information on how to research your ancestors and some helpful links - please look in background information.
If you have a specific question you can contact our archivist.
Stuart of Bute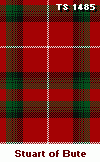 Stuart of Bute
The use of this tartan is normally considered to be confined to the family from which it takes its title, though other families less closely related have claimed an interest. Whether or not the pattern was in use before the publication of the Vestiarium Scoticum (1842) is not clear. It is often seen in maroon and is called ´The Hunting´ but the change from red does not have the approval of the Marquess of Bute.
The Stuarts of Bute are descended from illegitimate son of King Robert II.
Tartan Register