History of the Stewarts
| Tartans
If you are a Stewart Society Member please login above to view all of the items in this section. If you want general information on how to research your ancestors and some helpful links - please look in background information.
If you have a specific question you can contact our archivist.
Stewart of Atholl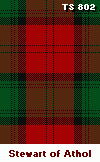 This was prepared for the Vestiarium Scoticum (1842) but not included in the published version. It was claimed to be the sett of a ´relic from the ´45´ and published as such by D.W.Stewart in his book "Old and Rare Scottish Tartans" in 1893.The sett is similar to the Lindsay but for the dark blue through the red rendered in this tartan as black. It has become more widely known in recent times. There is also an Atholl district tartan.