History of the Stewarts
| Tartans
If you are a Stewart Society Member please login above to view all of the items in this section. If you want general information on how to research your ancestors and some helpful links - please look in background information.
If you have a specific question you can contact our archivist.
Royal Stewart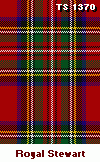 The best known of all Scottish tartans, the Royal Stewart is the tartan of the Royal House of Stewart and the personal tartan of Her Majesty the Queen. In the same way that clansmen wear the tartan of their chief, it is appropriate for all subjects of the Queen to wear the Royal Stewart tartan.
The pattern was first published by James Logan in his book, "The Scottish Gael" in 1831, but references indicate that the sett was known at the end of the 18th century. Early samples show blue as a light ´azure´.
There are several variants of this tartan.